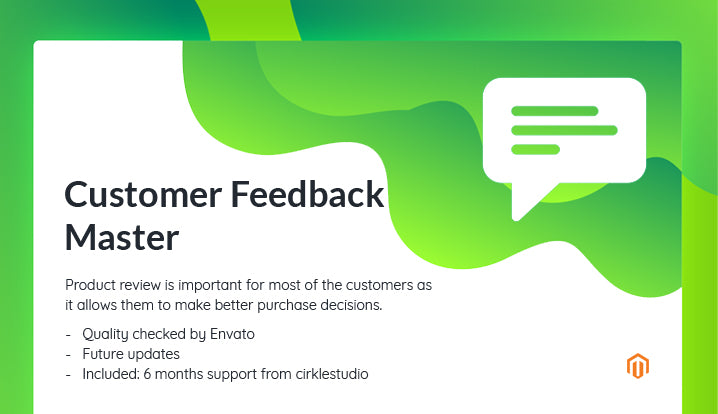 Customer Feedback Master
Product review is important for most of the customers as it allows them to make better purchase decisions.
Customer Feedback Master extension enables you to send automatic email Review Requests to customers who have purchased from you.
Build customers' trust and let them share their shopping experience and helps to improve product selling strategy.
Admins can moderate review content and control whether or not customer reviews go live on your store product pages.
Key Feature Of Customer Feedback Master Extension
User can easily understand the flow of this extension
User can easily enable/disable this extension from a backend
Provides a fully customizable interface of the extension from the backend that is easily manageable
The form allows customers to write detailed feedback in the manner they want
Set custom transactional email template with attractive design for customer feedback
No need to configure any extra email server settings
Feedback about your store helps you improve your business strategy
Allow customers to review the product via a direct link in an email
Enable email notification with a customized message and footer content
This extension saves customer's time and efforts
Installation Guide
Step 1: Unzip the module and copy the contents of the modules app folder to the app folder of your Magento store installation.
Step 2: Ensure that the module /cache folder has to write permission set to allow the WWW user group write access. The module caches customer and product information in this folder.
Step 3: Refresh the Magento Store cache
Step 4: Logout and login back into the admin backend go to System – Configuration and locate the configuration settings under My Extensions – Get Customer Feedback.
Step 5: After that, you have to run "http://yourstoreurl/cron.php" URL in your browser.